Yes, this time it's true! The snow is gone (okay if you search 'really' good you still may find some leftovers, where they carried the snow togehter), the temperature is above twenty degree, and the sun is shining! Perfect!
Okay, there is one problem, called 'exams'. But it doen't really stop me from enjoying the wheather. Four days ago I went to the Student life center to buy a greyhound bus ticket to Toronto and enjoyed the warm evening. And as I was in the SLC I used the opportunity to try some donuts and shared them with my room mates: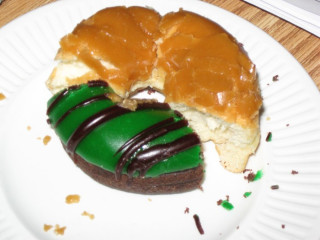 I know that has nothing to do with summer, but tasted very good! (The one with poison-like green is chocolate-mint and the other one is maple dip.)
The next day I paused my learning for walking through the area and the Wilfried Laurier Campus while searching an ice cream parlor – and yes, I found it … and the portion was quite big!
And yesterday I combined the useful with some sports: To buy some beer for crepé dough I jogged to the next beer store and back! It was definitively worth it… and the videos we watched while eating crepe – "Click" and "Wedding crasher" – are also recommendable! And watching movies on the wall using Dietmar's projector is quite fun! 😉
Well, unfortunately I also have to learn in between – but at least I can enjoy the wheather also from my desk which is right in front of the window… I guess there aren't any pictures of my rearanged room online, are there? I definitively have to make some, before I move out in some days… 😉
Some time before I even studied outside… but the playground in the back of our unit isn't really that comfortable for studying – but maybe I'll find a place at our new apartment… 😉
Well, but I guess I now should continue studying… because then I may spent my next break outside again… 😉